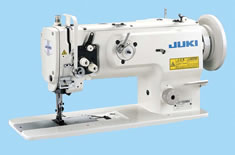 LU-1508NH 1-needle, Unison-feed, Lockstitch Machine with Large Vertical-Axis Large Hook
For Extra Heavyweight Materials
JUKI's unique feed mechanism promises excellent efficiency.
The LU-1508N is applicable to an extended range of
heavy materials .Such as cargo handling belts and containers,
as well as materials for general use, such as car seats, sofas and bags.
OTHER JUKI Machines
DU-1181N
DNU-1541
DNU-1541S
LU-1508NS
LU-1510-7
BUTTONHOLE
Accessories
Bobbins
Single Welt Feet
Double Welt Feet
Top Stitch Foot
LU-1508NH Needles
190R

Juki Domestic
TL-2010Q
HZL-K65
HZL-K85
HZL-G110
DDL-8100e
DDL-8700

Contact us for price. Westchester Sewing Machine
Phone; 845- 627-8873 / email sales@westchestersewimg.com
Contact Us | Home Page

Also available, Legs with Locking Casters

---
Built-in safety clutch prevents hook damage
Automatic lubrication with centralized oil wick
Arm shaft and hook shaft are supported by ball bearings
Timing belt driven
High presser foot lift
Built-in bobbin winder
For sewing medium & heavy materials such as canvas, leather, vinyl, synthetics
Great for jumpers, tents, and other heavy duty work
Large bobbin for greater production with fewer interruptions
Unison feed assures even feed when sewing multiple layers
Built-in safety clutch system prevents hook damage
Extra large hand wheel increases torque. A Belt Guard is also Included (Not shown in Picture)

Specifications Model: LU-1508NH

Maximum Sewing Speed: 2000 spm*
Stitch Length Adjustment:0 to 10mm
Presser Foot Lift By Hand: 9mm
By Knee: 16mm
Needle System: 190R
Needle Bar Stroke: 38mm
Feed Type: Unison feed
Hook Type: Large vertical rotary hook
Amount of Alternating Presser Foot Lift: 2.5 to 6.5mm (3.7mm standard)
Working Space: 255mm (10")
Safety Clutch: Yes
Lubrication System: Automatic with centralized oil wick
Bobbin: U Type
| | |
| --- | --- |
| Uses Singer 111W style walking feet | Contact us for LU-1560N DOUBLE NEEDLE |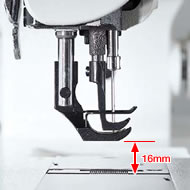 The high, 16mm presser foot lift enables easy material handling.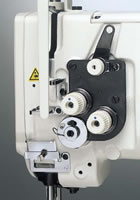 Title Goes Here
The LU-1508NH has adopted a dual-tension mechanism, with which the machine can support high-tension sewing with thick thread.