Model: LBH-783
Application - Buttonholing for ordinary cloth,  knit,  etc.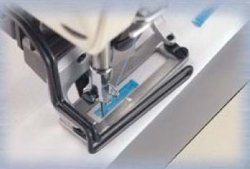 *Speed depends on thread, material and operation.

Applications

Men's shirts,  blouses,  working wear,  and ladies' wear.

Description

At the very least, a good buttonholing machine should finish seams of consistent quality and be widely adaptable to many different kinds of materials and seam specifications.  The LBH-780 series buttonholing machines respond to these needs and help reduce operator fatigue, thereby finishing high-quality buttonholes with a higher degree of efficiency.
Westchester Sewing Machine Co.
Phone; 845- 627-8873
Contact Us | Home Page
More Info

We will ship the JUKI LBH-783 free to the Continental USA only. We ship setup with continuous run motor stand in 110 volt.
If shipped outside the Continental USA, we would then ship knocked down. Please call for a quote along with the required electric current.
Specifications;
Needle bar stroke - 34.6mm
Max. lift of the work clamp - 12mm
Max. thickness of material that can be used - 4mm (with the work clamp lowered)
Number of stitches - 54~345 (by gear-change method)
Length of buttonholes - 6.4~38.1mm
Needle - DP×5 #11, 134 Nm75, 135x5, 135x7
Hook - DP type,  automatic-lubricating full-rotary hook
Deceleration method - Belt-shifting method
Lubricating oil - JUKI New Defrix Oil No.1 (equivalent to ISO VG7)
Motor - 300W general-purpose motor (A 250W general-purpose motor can be used when the machine is used at a sewing speed of 3,100rpm or less.)
Weight of the machine head - 40KG