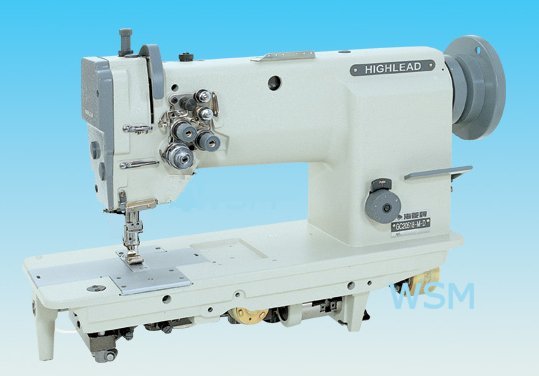 Equipped with Safety Clutch and Reverse


The Highlead GC20518-B is ideally suited for attaching straps, tapes, Velcro, lace and many other twin needle sewing requirements.
Mostly used in hot air balloon, parachute & paraglide manufacturing, the Highlead GC20518-B is also known to be used in the production of defense equipment.
Equipped with two Large Rotary Hooks and two "U" type bobbins, this machine can almost hold 3 times times the amount of thread a old style double needle machine could possibly ever hold.
Specifications:
Speed, Max. (S.P.M): 2000
Stitch length: 0-9mm
Needle bar stroke: 33.4mm
Take up stroke: 74.5mm
Presser foot lift by hand: 8mm
Presser foot lift by knee: 16mm
Hook: Large Rotary
Lubrication: Auto lubricated
Uses Needle 134R (DPx5)


1/4" Needle Spacing Standard
Contact us for other Needle Spacing sizes available.
Equivalent Machine; MITSUBISHI LT2-2230-B1. Similar machine; CONSEW 333RB-3
Double Needle, Needle Feed Lockstitch
Synchronized puller available Contact Us For Details.

*Heavy Duty Adjustable Legs with rolling casters available add $45.00
*1/2 HP motor 220 volt single phase or 220 volt 3 phase also available by request.
*Servo motor with needle position 110 volt or 220 volt available (please call)
WESTCHESTER SEWING MACHINE CO.
Phone; 800-225-8342 / 845- 627-8873
Home Page | Part Search | Product Search
HIGHLEAD Directory Page
boots, leather, tarpaulins
Gauge Sets Available
7.0mm = 9/32"
8.0mm = 5/16"
9.5mm = 3/8"
11.1mm = 7/16"
12.7mm = 1/2"
15.9mm = 5/8"
19.1mm = 3/4"
22.3mm = 7/8"
25.4mm = 1"
31.7mm = 1 1/4"
38.1mm 1 1/2"
44.5mm = 1 3/4"