Rotary Cutters
Rotary wheel cutters are a popular alternative to scissors. They're a particular favorite of quilters and crafters, offering quick, accurate cutting for straight edges and multiple layers, as well as curves.

Choosing a Blade Size
In general, the larger the rotary blade the easier it is to slice through fabric. Smaller blades are a good choice for cutting around curves, but cutters with larger blades will be the ones you reach for most often.

ITEM# RTY-1

ITEM# RTY-2


ITEM# OL-RTY-3/G

ITEM# OL-RTY-4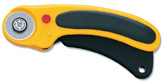 ITEM# OL-RTY-1/DX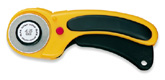 ITEM# OL-RTY-2/DX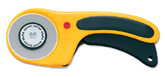 ITEM# OL-RTY-3/DX
Back | Home Page