Buy...
$425.99 Head Only
$605.99 Head with Knockdown Stand
$680.99 Fully Assembled*
The CN2033R-1 has been designed for natural, synthetic fabrics and for light weight leather with perfect straight stitching with up to 9 mm of zig-zag stitches.
With a built in bobbin winder and a hook that automatically advances and retards timing (according to zig zag width) the CN2033R-1 also incorporates an adjustable forward and reverse stitch length mechanism.
Head Only Includes:
Thread Stand, Bobbin Winder, Oil Pan/Knee Lifter, Extra Bobbins, Extra Needles, Instruction Manual, Screw Driver
and Machine Oil.
* For complete units assembled contact us for a freight charge. Complete units cannot be shipped by UPS and must be trucked.
Complete Unit "Knockdown" includes Head with ...
Table top (size 48" x 20"), Heavy Duty Adjustable Legs,
1/2 HP motor 110 volt 1725 RPM, Sewing Draw, V Belt,
Table Mount Sewing Light and Hardware.

Also, Singer Model 20U available.


Phone; 845- 627-8873
Fax 845-627-6949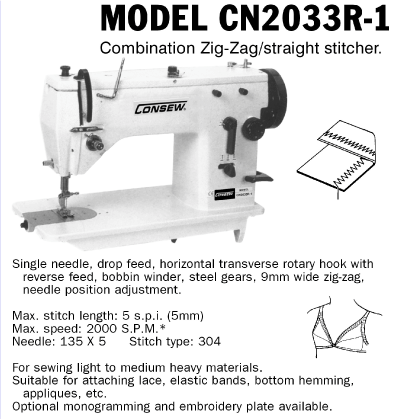 The Knee lifter can be used to raise the foot or control zig-zag width.
Buttonholes are produced by means of right, center,
and left needle positions. The needle bar frame locking clamp is engaged by a quick 1/4 turn of a knob.
Zig zag plate, straight stitch plate, and embroidery/darning plate included.
Zig zag/satin stitch and straight stitch feed dog included.

Also Included: Straight-stitch foot, Zig-zag foot, Zipper foot, Manual buttonhole foot, Instruction Booklet