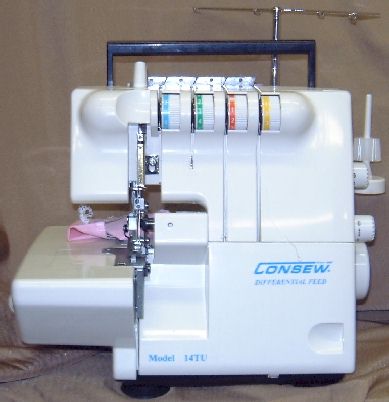 U/L APPROVED, 110 Volt, 1 PHASE, 60Hz.



3 Thread or 4 Thread Mock Safety
Contact Us | Home Page | Go Back
Specifications and price to change without notice.
Price does not include freight.
PORTABLE OVERLOCK STITCH MACHINE FOUR-THREAD TWO NEEDLE (MOCK SAFETY STITCH) with FLIP-UP CARRYING HANDLE FLAT BED OR CYLINDER BED
Specifications
Speed, Max (S.P.M.) : 1000*
Clearance Under Foot : 15/64" (Up to 6mm)
Stitch Length, Max. : 24 s.p.i. (1mm -49mm)
Needle : HAx1
Overedging Widths : (5 - 7 mm)
Stitch Type : 514
Applications
Perfect For overedging and trimming various materials from lightweight fabrics such as chiffons, silf, suit lining, tricot, linen, cotton, general dress materials and woolens to heavyweight fabrics such as tweeds, coat cloth, jersey and denim. Sew through denim as well as through the sheerest of fabrics without puckering. Suitable for overedging such products as jackets, sweaters, dress and sport shirts, overalls, uniforms, jeans, work pants, dresses, jump suits, slips, negligees, pajamas, bathing suits, trousers and coats. Suitable for general overedging, cross seaming, plain seaming, pintucking and braiding. You can ornament with pintuck or braid stitching and ornamental overlooking.
Features
Two individually adjustable and replaceable loopers.
easy color coded threading. counterbalanced mechanism. Suction cup feet for smooth, vibration-free operation. Telescoping thread mast (convenient extension spool holders). High-rise looper mechanism with presser foot lift up to 5/32" (4.5mm) Heavy duty top tungsten-carbide steel knife and lower carbon steel knife ensures sharp, clean cutting. Easy thread tension control for any thickness of materials and any threads. Needle guard prevents the needle from bending or breaking when stitching heavyweight materials such as denim etc. Equipped with built-in motor, electronic foot-operated speed control. built-in glare-free needle light complete with rolled hem plate.


Phone; 845- 627-8873
Fax 845-627-6949