Newlong NP-7A Bag Closer Economical Single Needle Chainstitch for sewing bags.
The high-speed NP-7A Portable Bag Closer with steel cam provides the user with years of service.
Engineered for continuous operation, this single thread chain stitch bag closing machine has a top speed of 1,600 rpm.
With a designed plastic handle for comfort and insulation, the NP-7A Portable Bag Closer features an oil
pump lubrication system. This oiling system directs the lubricant to all main moving parts.
There is no more guessing where to place oil like in other bag closer models.
Specifications
Oil Pump Lubrication
Capacity 1 quart
Needle(s)
1
Needle Type
DN x 1 No. 25
Thread(s)
Single Thread (PP, Polyester or Cotton)
Stitch Type
1 Line, Chain Stitch
Fixed stitch length
3 stitches per inch
Automatic thread cutting
Cuts the thread at end of your sewing operation
Motor
8000 RPM, 1/10 HP 110volt

The oil pump is designed to dispense the correct amount of oil for approximately four (4) hours of operation under reasonable operating conditions. The oil pump must be pumped twice every four (4) hours during use, while in an upright position. Or, if machine use is infrequent, pump it twice before operating.


Included; 1-Spool of Thread, 10 Extra Needles, Screw Driver,
Needle Wrench, Oiler extra Timing Belt.

GK26-1A Single Thread | Bag Closer Thread

WESTCHESTER SEWING MACHINE CO.
Phone; 845- 627-8873
Fax 845-627-6949
Price does not include freight.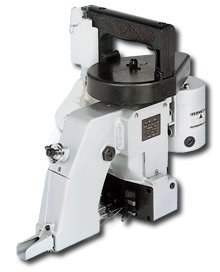 NP-7A View Stitch
Price $395.95