MODEL GK26-2A Portable BAG CLOSER with 2 Threads and Oil Lubrication System.
Ideal for closing bags for agricultural products, animal feeds, fertilizer, flour, chemicals, etc.
For kraft paper, cotton, hessian, jute, pp/pe woven cloth and other bag materials.
FEATURES:
Double Line chain stitch for extra strength
Automatic thread cutting
Safety plastic handle for insulation
Oil pump lubrication system, oil lines direct to main moving elements
Runs on Ordinary House Current 110 Volt

SPECIFICATIONS:
Speed: 5 to 8 seconds per normal bag size
Stitch length: 7.2mm (3.5 per inch) fixed
Stitch Type: 401
Needle: DNx1 - #25
Weight: 5.3 kg (15 pounds) with thread

Included; 2-SpoolS of Thread, 10 Extra Needles, Screw Driver,
Needle Wrench and Oiler.

GK26-1A Single Thread | Bag Closer Thread

Contact Us | Home Page | Consew Bag Closers

WESTCHESTER SEWING MACHINE CO.
Phone; 845- 627-8873
Fax 845-627-6949
Price does not include freight.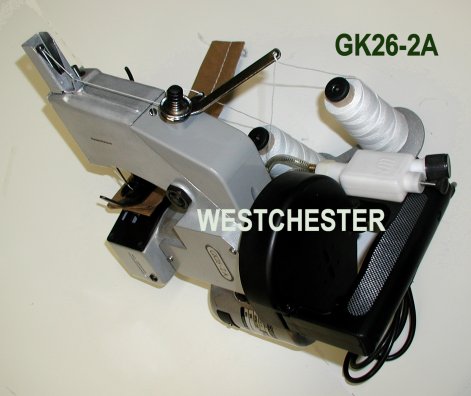 Price $448.95
The oil pump is designed to dispense the correct amount of oil for approximately four (4) hours of operation under reasonable operating conditions. The oil pump must be pumped twice every four (4) hours during use, while in an upright position. Or, if machine use is infrequent, pump it twice before operating.